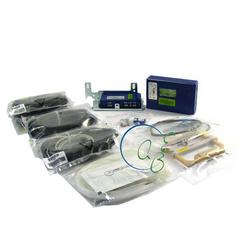 TMD CPK2 MCRW DIEBOLD OPTEVA ANTI SKIMMING KIT
TMD-7
New:
WHEN ORDERING MCRW KIT- PLEASE SPECIFY IF YOU HAVE AREA 1 OR AREA 4 MCRW FASCIA INSERT TO ENSURE YOU GET CORRECT NEW INSERT WITH YOUR KIT
Card Protection Kit. (Includes the TSM/Transmitter - Jammer). Protects against skimming where the skimming devices are attached to the card entry slot of the fascia.
TVK: Tilt and Vibration Kit. Protects against skimming by providing smart protection against criminal attempts to cut, saw or drill into the fascia so as to try and access the card reader; it also protects against attempts to disable or remove the TSM.
SDK: Surface Detection Kit. Detects the presence of a skimming device placed on the fascia in the area of the card reader. Once detected, an informational alert is sent to the deployer so that immediate action can be taken. Since the SDK is always used in combination with the TSM, the card data is always protected and the ATM can stay in service during a skimming attack.
DSW: Door Switch. Ensures that no alerts are generated during authorised access to the ATM/SST for maintenance or service when the TVK and SDK are in action by temporarily putting the TVK and SDK in 'standby' mode when the door is open.
Anti-Skimming, Auto Protection and Skimming device Detection Includes: CPK, TVK, SDK, DSW and Integrated USB communication
Sign In